I don't know why it took me so long to blog about Egypt. I guess so much has happened since our return that it got away from me. But there is a lot I want to say about it so here goes. First, if you don't read the whole blog article, I just want you to read this one thing. Egyptian people LOVE Americans. That's right…I'll say it again. Egyptian people LOVE Americans! I had read that before I went but I had to see it for myself and it's very true.
So let's start from the beginning. Seeing the pyramids of Egypt was on my husband Dave's bucket list ever since he was in high school and studied about them. We thought long and hard about this trip but we decided to push SEND! I'm not going to lie, I was terrified. After we booked the trip, there were several terrorist attacks including the Russian plane that was shot down from the Sinai Peninsula on the eastern side of Egypt. My parents were also terrified but the worst part was leaving my kids including my then 11 year old daughter behind. We both cried and hugged each other extra long on the day we left. Flying to the other side of the planet is one thing but to a middle eastern Muslim country with known terrorist attacks was quite another.
When we arrived at JFK airport and proceeded to our "Cairo Egypt" gate, I realized I was the only blond person at the gate which felt a bit….intimidating. Also, this was the first time that we had heard the "call to prayer" and saw the men bowing down on the floor….something that I got very use to while in Egypt but seeing this at our gate for the first time felt very foreign to me and a little bit scary. After our long flight aboard Egypt Air, we finally heard the pilot say "welcome to Cairo Egypt prepare for landing". Huh? We're in Egypt? OK….so surreal. I felt a calm come over me as we walked off of the plane and proceeding into the airport….it looked like any other airport really….so very familiar but not. Everything was written in Arabic. Before we left I had checked with our travel agent about wearing a haji on my head and she assured me that it was ok not to. When booking this trip we made sure we had a guide (we called it our babysitter). Our first guide was standing there at our arrival gate with a sign that said "Dionne". He had a huge smile on his face and he spoke English. His name was Ashrof. "Welcome to Cairo!". We were SO tired but SO excited to be there in Egypt. He drove us to our hotel and COULDN'T HAVE BEEN NICER. In fact he was one of the kindest, smiliest, people I have ever met. As we drove through Cairo to our hotel, I was surprised to see lots of donkeys pulling carts along side the cars on the streets. I felt like I had gone back in time. Everything looked very biblical to me in large part due to the robes and hijabs that the people wore.  Add donkeys and carts….well you get the picture. Ashrof took us to our The Four Seasons Cairo hotel (yes a luxury American hotel but we needed just a bit of familiarity) I was taken back that we had to go through a metal detector to get into our hotel EVERY TIME we re-entered it. ….but I felt very SAFE in there. That night we ventured out looking for a restaurant. In Egypt, they have military police and tourism police. A military police officer stopped traffic in order for us to cross the street to get to our restuarant. NOTHING bad was going to happen to us PERIOD. We were feeling pretty good about that.
Starting the next day, we met our first tour guide, Nihal. She was extremely nice and very knowledgeable. Over the next few days, she took us to several ancient pyramids including the famous Sphinx and the pyramids of Giza where we rode a camel around the backside in the Saraha desert (pinch me!). I managed to grab a cell phone video of Dave riding along with the pyramids in the background (you can see that in our video below). Nihal toured us in the Egyptian Museum as well. What struck us the most is that tourism is a very well respected major in the universities in Egypt. Our tour guides were incredibly knowledgeable and studied hard to become Egyptian tour guides. Sadly tourism is down 90 percent…..yes NINTY PERCENT!  We felt very sad for these tour guides and all of the other people that worked in tourism. Hopefully one day, tourism there will be what it use to be. Dave and I felt EXTREMELY safe in Egypt. The only good thing about the lack of tourists is that we never waited in line….even at the tomb of King Tut. After a few days in Cairo, we took another Egypt Air plane to Luxor where we met our next guide, Remon. He was also extremely knowledgable as well and it was very obvious that he learned his English by British professors. He had an Egyptian accent with a twinge of a Brittish accent! It was a bit hard to understand him but we loved him! He took us to Valley of the Kings, Karnak Temple, etc. again…no waiting lines. We had a lot of time to talk with Remon because we drove quite far to Kom Ombo (almost to the Sudan border).  In talking with him, we talked a bit about America. At the time, Trump was just beginning to surface so he had not heard of him yet. But one thing he said that stuck out to me is that he didn't understand why Americans bow down to every religion and can't even say "Merry Christmas" anymore. Of course in Egypt, 95 percent of the people are Muslim with 5 percent being Christian. If you come to Egypt, you will hear the "call to prayer" being broadcasted on speakers EVERYWHERE five times a day….and that's ok. They do not understand why Americans feel the need to try to be politically correct this way.   I thought that was interesting.
Along the way, I took many photos in Egypt but because we were always on the move, I found it quite difficult so I mostly took video. Here are a few cell phone photos along with a few taken with my "good camera". Enjoy!  And those of you who have thought about going to Egypt but were frightened to do so….JUST GO!!!  It is not dangerous.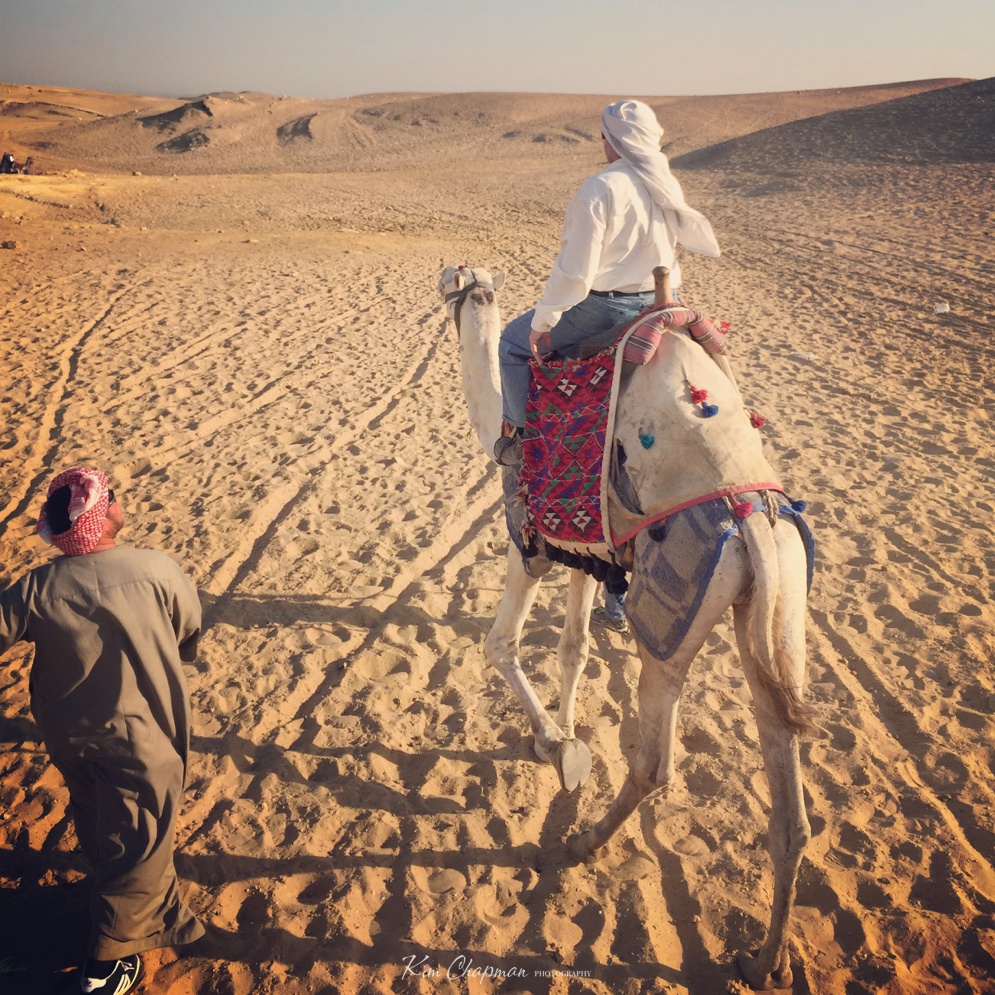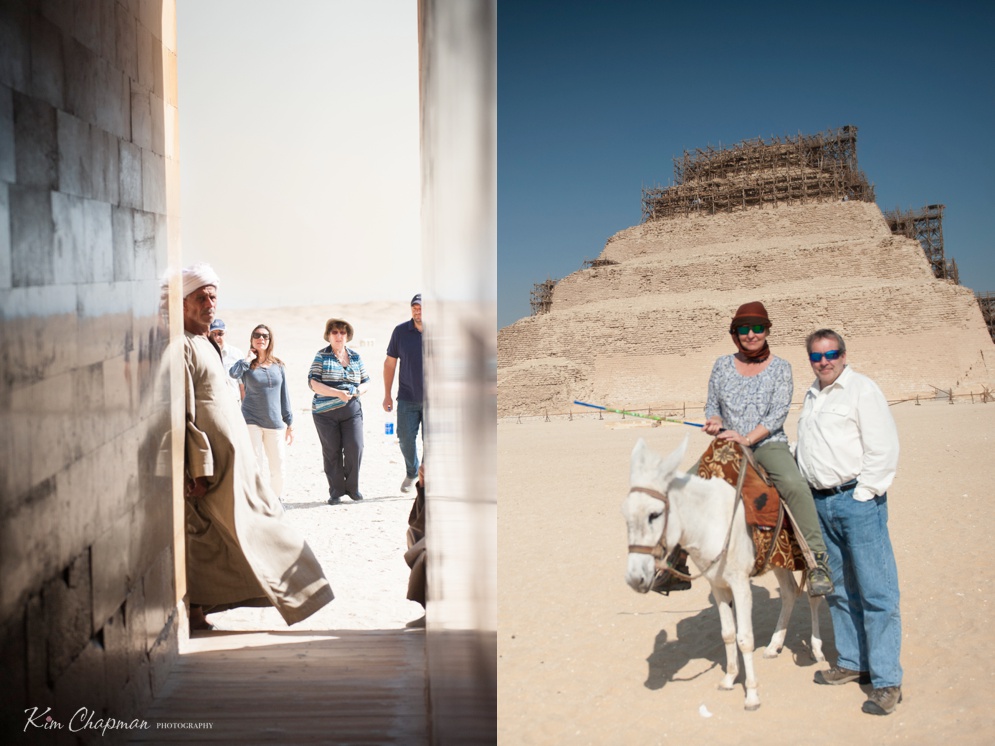 Our wonderful first guide Nihal took us to the Giza Pyramids where we rode camels! ^^

Dave and I climbed down inside one of the ancient pyramids in Saqqara.  Long and scary! ^^

The struggle is real.  These poor things have to lay down in order for you to get on….and then stand up! ^^

We visited a school for making Egyptian rugs…mostly attended by children. ^^



We also visited a store that sold and made paper goods out of papyrus.  They let us try.  We also bought some art there. ^^

Ahhhhh we frequented a restaurant near our hotel.  Anthony Bourdain smoked shisha in Egypt so Dave wanted to try it!  There is something sexy about my husband smoking shisha! ^^

The view of the Nile River from our Restaurant ^^

Can you find Dave in this picture? ^^

We visited a mosque ^^



Olives (and other fresh fruits and vegetables) are grown in Egypt and sold in the streets of Old Cairo (left) ^^


Stopped to rest and have a snack (with Nihal) ^^

We left Cairo and flew to Luxor (we met our next guide Remon)
W





This was our hotel in Luxor.  We only saw 2 other guests while there (sad).  At dinner, we got sat next to the only other
person in the restaurant outdoors.  He was from California! ^^





Notice the completely empty tour boats ^^

Remon took us to the Valley of the Kings ^^ among other places

We took pictures inside of tombs.  It is forbidden to do this but…..oh well. ^^





We would sit out at sunset at our hotel and smell the burning sugar cane and we could always hear the call to prayer (you can hear it in
our video that that we made.  It sounds eerie)
EGYPT VIDEO (filmed on our cell phones!)